Hey guys, here's our roundup of this week!
This Tuesday sees the release of Jake Hearney's Eaton Skatepark edit on our YouTube Channel - you guys will be the first to know when it's live!
---
An epic indoor edit from the ATB Collective, filmed at skateparks throughout the North West.
---
Forde Brookfield saw fit to release Funeral in it's entirety!
---
Ben Powell continues to delve into his amazing archives with a minute of Aberdeen footy featuring the unrivalled Mike Rusczyk amongst others!
---
Excellent edit from the With Section crew.
---
A solid minute of Elijah Berle for FA - proper AVE worship in the schoolyard line!
---
A little message from Vans:
2x Vans Park Terrain Skateboarding World Champ Brighton Zeuner Curates Her First-Ever Vans Footwear and Apparel Pack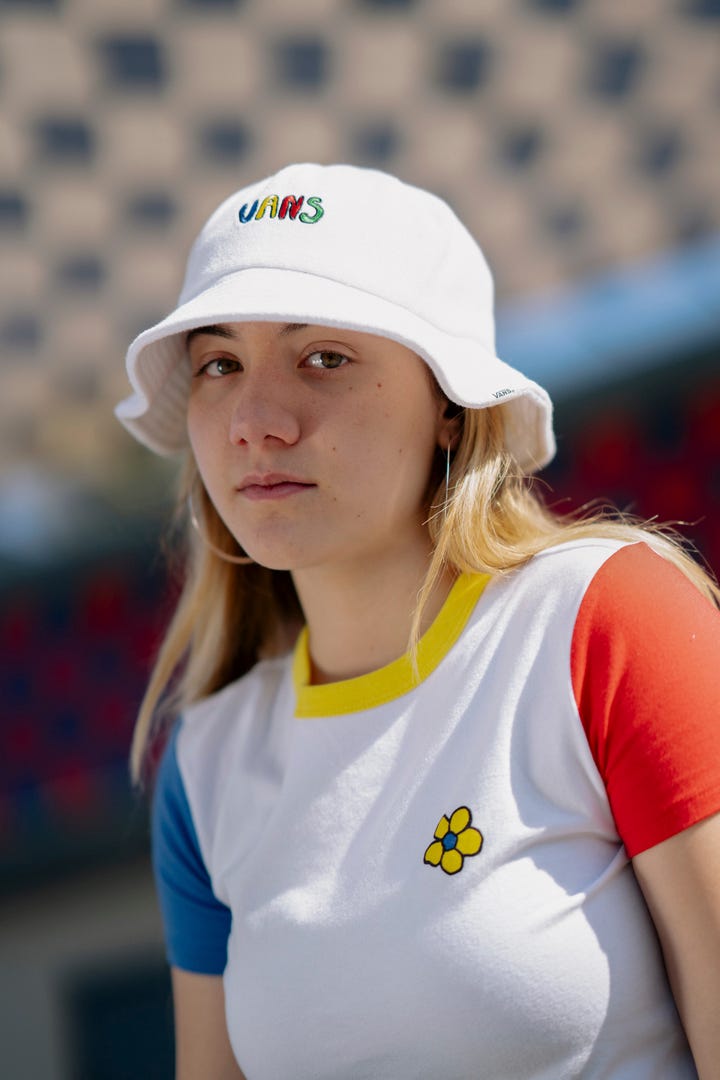 The Brighton Zeuner Old Skool Pro is a bright new colorway supported by bold apparel and accessories.
Costa Mesa, CALIF. (April 9, 2020) – At just 15 years old, Brighton Zeuner is a force to be reckoned with. The two-time Vans park terrain skateboarding world champion serves as inspiration to young skaters everywhere in the face of a male-dominated professional skateboarding landscape.
"I have a different style every day," Brighton admits, "but my dream was to create a collection that I personally like, and that other girls and guys would enjoy, too. I picked the primary colors because it reminds me of being a child and being young - those are my happy colors, if you will."
Vans is celebrating Brighton's distinct style and penchant for creative self-expression with the introduction of the Brighton Zeuner Old Skool Pro, a new colorway in the Vans Classics lineup, as well as an apparel pack, all designed under the direction of Brighton's distinctive, color-driven ethos.
The Brighton Zeuner Old Skool Pro features extra tough, tech-driven attributes that Vans Pro Skate is known for. A suede-and-canvas upper receives custom Brighton Zeuner embroidery treatment, while Duracap technology delivers reinforced underlays in high-wear areas, creating an unrivaled level of durability that prolongs the life of the shoe. PopCush – a brand-new foam recipe—makes the shoe meticulously tuned for impact protection, superior cushioning and better energy return.
The pack also includes the Brighton baby tee, cami body suit, BF hoodie, skirt, and Authentic Pro Pant, plus the Brighton bucket hat, low-height crew sock, and colorblock backpack. Each are adorned with intricate detailing, including embroidery of her childhood signature and a bright floral pattern – inspired by a doodle in her gradeschool notebook— and rubberized heel tab patch.
"My favorite part of designing this collection with Vans was taking thrift items or clothes in my closet that I love, and using them as inspiration to create some of the dream pieces that I've always wanted," Brighton said. "I've worn Vans since I first started skating, and it's crazy to say I get to work with a company I've admired from such a young age."
Representing the future of skateboarding, Brighton has accomplished a lifetime's work all before she can legally drive a car. Her flawless trick execution underscores a natural ability to land every maneuver with style and grace and serves as an inspiration and example for aspiring skaters everywhere who are looking to break down the status quo.
"What inspires me the most about women's skateboarding right now is seeing all the new girls out there," Brighton adds. "Everyone is so different and has their own style, but we all have the same passion for skateboarding."
Smash your own barriers with The Vans Brighton Zeuner Old Skool Pro and apparel pack, available at Vans.eu from April 16th.