Read this in print here.
Get 20% off our paid newsletter below!
---
Interviewee: Forde Brookfield.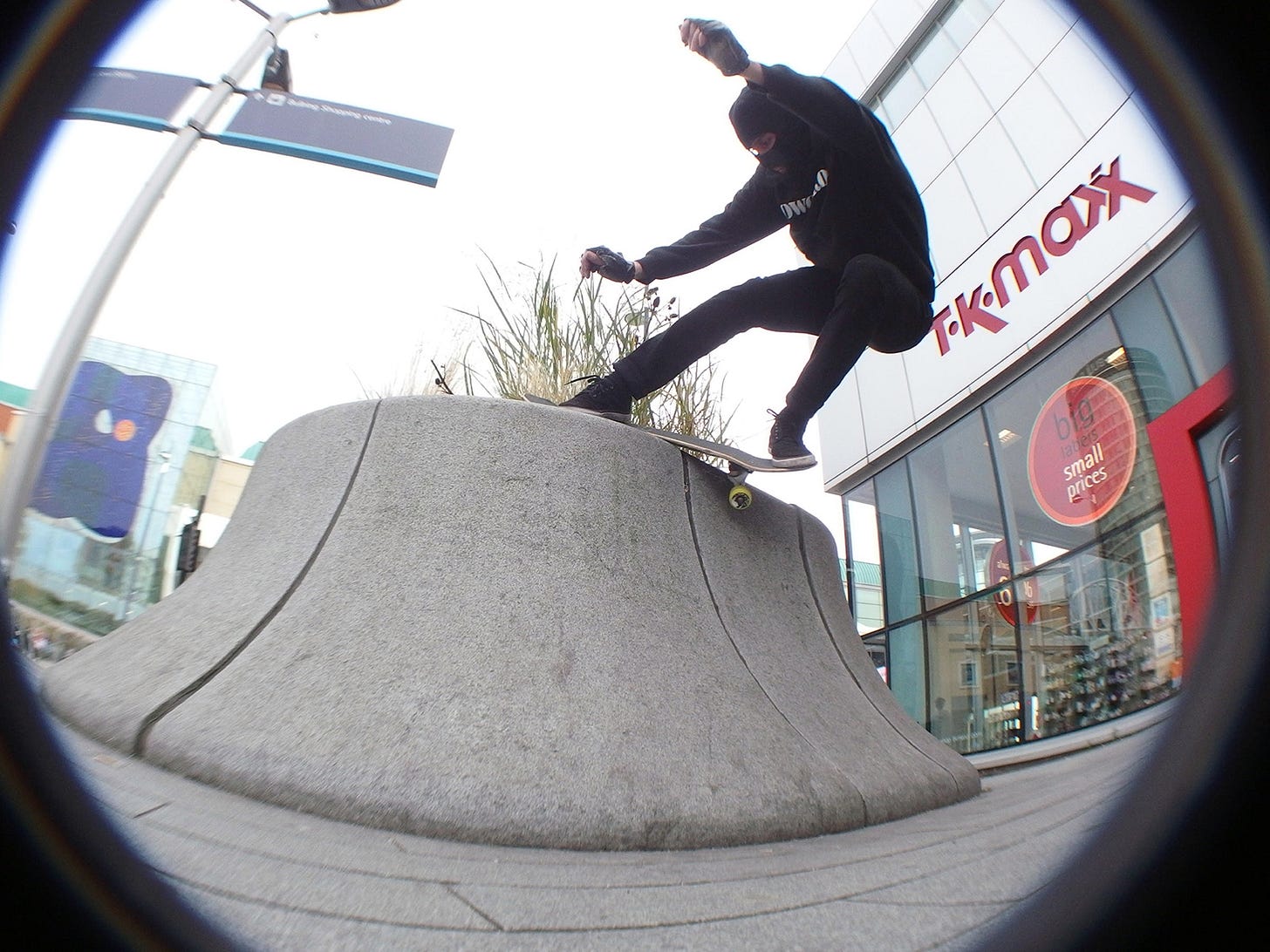 Deerman Feeble Fakies in Birmingham.
So Forde, how did you manage to get DMODW over to the UK to film for your new video?
Easy man, well I'd like to say it was really hard to set up, but it surprisingly wasn't. I've been somewhat of a super fan of the Barrier Kult for many years now and recall seeing the original Horde video, followed by Heroin Skateboards "Magic Sticky Hand" many moons ago. Ever since those videos arose, I was immediately a huge fan. I'd say it made me want to go out and search for barriers to skate myself, but being in the midlands, non seemed to exist at all which meant we had to make do with what we had. To this day those early videos stoke me out as much as they did when I first discovered them.
Anyway, shortly after those videos came out and I'd released a few (for want of a better word) terrible U.K. barrier videos, a connection was established via email between the Kult and I. Fast forward somewhat 1000+ emails later, I received a message out of the blue from the Kult informing me of Deer Man of Dark Woods' interest to venture into some raw U.K. terrain. I obviously jumped at the chance to guide Deer Man around various U.K. barriers/abrupt transition.
The initial idea was to film for an upcoming Deer Man of Dark Woods project and/or BAGHEAD3. I'm currently in communication with the Kult discussing the future possibilities of a trip out to Vancouver, Canada to continue work on the video project.
How did he react to the uniquely British street tranny? Such as pivot fakie-ing outside Poundstretcher in Bedworth?
Well, we'd set up a plan of spots best suited for the time we had, which obviously included every form of barrier (concreted or raw) as well as completely harsh street transition. Now, when I say "street transition", it is not pleasant transition at all, it's in-fact the opposite. I had numerous spots to take Deer Man to, all of which I've been to before with various different crews, many times ended up in us leaving footage-less.
We'd visited a few barriers in Nottingham, Coventry, Birmingham and around Leicester itself, but one of the fondest sessions we had was in the evening in Bedworth. The classic Bedworth transition spot (which I was informed are very popular in the BMX world due to their extremely tight transition) ended up being one of the best sessions I've ever been involved with in my entire life. We drove there from Coventry with local legend Joxa, followed by Harry Myers and a few more Coventry locals. Upon arrival, Deer Man approached the steepest corner of the spot and just began to warm up and skate it, as if it was nothing. The footage we accumulated from that session will stick withme forever, it's one of the most powerful sessions I've ever had the privilege to film. What made it more special is that Stan Bryne and Moose arrived soon after we started skating, followed by Coventry and Bedworth locals. Everyone there absolutely smashed it all evening. It was certainly a powerful vibe and an incredible evening. Joxa (in classic Joxa style) ended the evening with a friendly tour and a lovely dinner. Thanks Joxa, you're the fucking man!
Pivot Fakie, Bedworth.
How much variety of terrain did you get to hit up during the sessions? Did you stick exclusively to barriers / street transition?
Strictly barriers and steep, steep, steep transition which was decided by the both of us. We had a routine meet up time in Leicester and stuck solidly to the plan of where we needed to be, the time we needed to be there and who we'd planned to meet at that time.
Like I mentioned above, more people turned up for the sessions, so we all had a good skate. During our Nottingham session, Ed Roe was present, which is always a bonus, because Ed fucking kills it and has one of the upmost positive attitudes towards skateboarding. Jazz Wade later joined the session and ended up leaving with a banger for his upcoming video part. If you head over to the @barrierkult official instagram, you'll see that amongst all the madness of skateboarding and filming, we still had the time to visit the Midlands core skate stores, such as Fortytwo Skateshop in Nottingham, Followed by Ideal Skate Store in Birmingham on the last day.
Am I right in thinking you managed to film enough in a week for a full part for Baghead Kills 3?
You're very right! We filmed so much good content in the short time that we had. I recently laid it all out onto a timeline and couldn't believe how much we'd filmed, and how well it translated into a video section. I've sent over the footage to the Kult for them to view and do whatever they please with it. As I said above, we're planning for a Vancouver trip to add to the footage we already have, to release a much longer part; split between the U.K./Vancouver. I'd love to get the entire Kult involved in this video part.
You're a heavy skate video collector and recently re-upped Barrier Kult's classic Horde video to your youtube channel (and now Horde 2) - take us through that process a little.
I'd uploaded the original Barrier Kult "Horde Video" years ago to my private Vimeo account but recently learned that the copy I had was missing the first few minutes. I've since then deleted it off my Vimeo, and (with the approval of the Barrier Kult), re-uploaded the original, full length cut to my YouTube account. The great thing about the copy I've had stored on my computer for years is, it's actually a ripped copy from the original video that was sent to me years ago from the Barrier Kult themselves - that stokes me out so much as I actually don't have my copy of the DVD anymore. I must've given it to someone and never got it back!
I recently uploaded The Horde Video 2 to my YouTube account solely to support the Barrier Kult, since they've continued to support myself and the Baghead Crew. They've also just released a collaborative line with Altamont, in which the Horde 2 video has been re-uploaded and is being hosted by King Skate Mag.
Thankyou
Hangup, Barrier Kult, DMODW.
Rock and Roll, Nottingham.
---
Subscribe to receive plenty more articles like this straight to your inbox!